The future of modular energy storage
High-secure LiFePO4 lithium cells
The BOS smart battery system ensures maximum
safety through the latest LiFePO4 lithium cells,
a built-in next-generation battery management system,
a redesigned cell heating and a whole range
of state-of-the-art functions for intelligent control
and optimization, such as full data recording, digital
handshake and full traceability.
Nominal capacity (920 Wh usable)
no more borders between mobile and stationary use
The LUX battery is a lithium-based storage system,
which due to its exceptional modularity can be used
in 12V, 24V and 48V systems. This innovative design
enables a multi-use concept in mobile and stationary
applications by applying the storage capacity
where it is needed, on the fly.


Designed to discover the world
Reinforced fiber material made in Germany
Engineered and manufactured in Germany, with a passion for quality in every detail and electronics component, the LUX battery can compete with the highest safety standards. In order to withstand the tough challenges and ensure the required durability, we have developed our own material for the housing of the LUX battery. This consists of a recyclate, i.e. recycled plastic, with a high glass fiber content. Ensuring an exceptional durability with low thickness and weight.
It´s not just a battery but the name for a whole product family. The key is the great modularity and compatibility of the components with each other. This makes the LUX system suitable for a wide range of applications in the private and industrial sectors. The dimensions are designed for a wide range of applications. Starting with 2 LUX batteries fit in the mobile application
into the space of a conventional 95 AH lead-acid battery. In addition, the LUX frame can fit four batteries in an industry-standard 19-inch rack, configurable with any system voltage configuration, 12V, 24V or 48V.
SoH estimation helps our customers to understand the aging of the batteries and can vary their usage to balance optimum performance and maximum capacity utilization. Furthermore, the SoH will help our customers to plan the future replacement of the Lux battery. SoH estimation is key to success of various business models linked to Lithium batteries, and our goal is to support businesses with the implementation of various business models (battery as a service, battery swapping, etc)
BOS is aiming to achieve highest sustainability with the Lux battery and one of the key focus is to offer second life Lux batteries at affordable costs to energy access projects in emerging countries. The life cycle of Lux across first life and second life will be closely monitored and tracked and shared with the Lux customers.
The intelligent battery system do not have to stay alone, the Lux-Baterry modules can be combined. The increased capacity changes the possibilities of traveling to undiscovered places and enables more independence and freedom than ever before. Multiple Lux-Batterys are easy to connect to each other. Even though life and needs may change, more modules can be added in the future.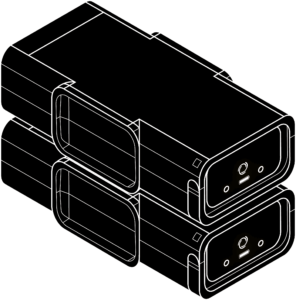 Lithium and hybrid system combinations
When looking to upgrade to Lithium systems, one must upgrade their charging technology and infrastructure, which is at times quite expensive. To overcome this limitation, we have designed Lux battery to work with the existing electronics designed for Lead acid batteries, without needing to replace any electronic components. The plug and play Lux battery is just a straight replacement to Lead acid batteries, just uninstall Lead acid batteries and install Lux in the same place, and you have Lithium battery up and running.
For customers who want to keep their Lead acid batteries, we have a unique hybrid solution. Just connect Lux in parallel to your Lead acid battery and it will automatically sync with the Lead acid system. So now you have a hybrid battery system(combination of Lithium and Lead acid) without needing to replace any electronic components
Get all the news and availabilities of the LUX Battery